Live Review: Brad Hoshaw & the 7 Deadlies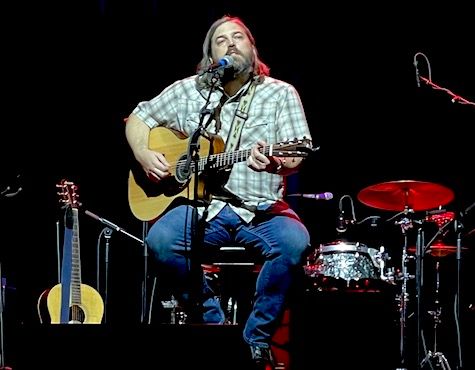 by Tim McMahan, Lazy-i.com
One of the best songwriters to come out of Omaha, Brad Hoshaw, celebrated a homecoming and (sort of) album-release party last night at the brand-spanking new Benson Theatre. It was an appropriate stage for the occasion as Hoshaw once was one of Benson's most visible artists, for years performing along Maple Street. These days, Hoshaw lives in a rural town in central California, but he's still writing his classic brand of love-sick folk songs. 
The first half of the set was just Hoshaw and his acoustic guitar, sitting center-stage playing a number of songs off his new album, Living on a Sliver, including personal favorites "My Dying Day" and broken-hearted lovesong "Lonesome Fool," which he explained from stage really has a happy ending because after he wrote it, he first texted his now long-time girlfriend (Awwww.). 
The acoustic set showed off Benson Theatre's acoustics — you could hear every fine wrinkle of Hoshaw's vocals and guitar. What more to say about the theater except that you could see every dollar of the millions that went into its refurbishment — it's gorgeous and surprisingly cozy for its size – which is a nice way of saying it's smaller than I thought it would be. The room's acoustics were so good that between songs I could clearly hear conversations at tables across the room.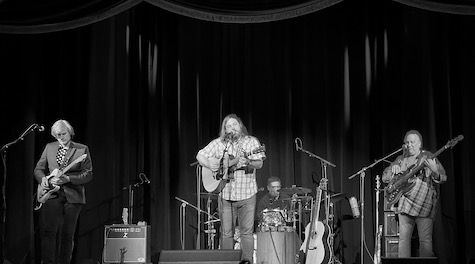 After about 45 minutes and a brief intermission, Hoshaw came back on stage with his band, The 7 Deadlies, for an hour-plus set of oldies, this time highlighted by killer versions of "It Falls Apart" (from 2014's Funeral Guns) and show-stopper "Powdernose" from the 2009 debut, each featuring scorching guitar solos by lead guitarist Matt Whipkey. Rounding out the Deadlies were drummer Scott Gaeta and bass player Craig Balderston. 
The band came out for a lengthy encore that included a solo-electric version of "Coma" and Hoshaw's go-to cover, "Purple Rain" (No matter what I do, I can't get him to cover "Please Come to Boston"). The crowd of around 80 gave Brad and the band a well-deserved standing ovation.