Happy Thanksgiving! 
For me this holiday is about being grateful for what I have. My day usually includes spending time with loved ones and enjoying every sight, smell, taste and sound that surrounds me. This year I'll be celebrating with a heavy heart because I know so many people, will not have the luxury of spending their day like me. Many will be fighting against injustices or struggling just to be respected. I encourage you all to join me in trying to make this world a little easier for those around us. Even if it's just a brief smile toward a stranger, each act of kindness can make a difference in someone's day.
As a way to thank you all for your support this year, I am offering a one-day sale on my online store. Everything will be half-off on Friday, November 25th. Including some very special custom offerings. Enter the promo code "givethanks" at checkout. 
Digital Downloads 
CDs & Vinyl 
Buttons, Stickers & Posters 
Handwritten Lyrics 
A custom song written just for you or a loved one
Also on Thanksgiving-Eve I will be performing a solo-acoustic set at Harney Street Tavern in the Old Market. It's a free show and I'll be performing from 9-10pm. I have a few new songs I can't wait to share with you. I hope you can join me.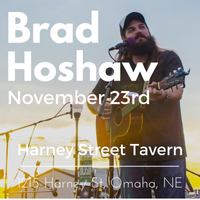 Wed, Nov 23rd @ 9pm 
Harney St Tavern, 1215 Harney St, Omaha, NE 68102 
Clarence Tilton with Brad Hoshaw 
FREE / 21 and over 
Facebook Event
Wishing you all a very peaceful holiday! 
Sincerely, 
Brad