Published in the Calaveras Enterprise on November 18, 2021
Opinion Piece by Marie-Elena Schembri 
marie@calaverasenterprise.com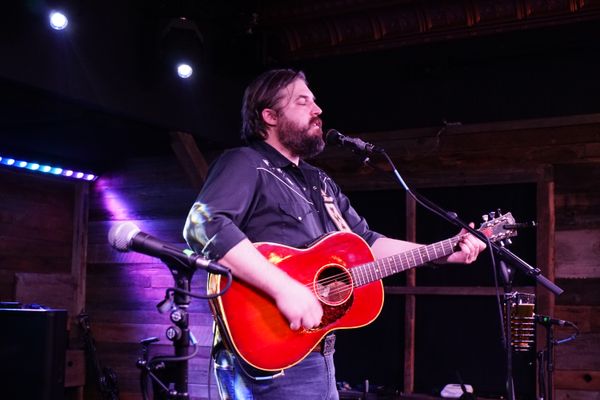 A Photo of Brad Hoshaw at a recent performance in Placerville at The Green Room Social Club 
Full disclosure: I might have a little skin in this game, so to speak. As a new reporter at the Enterprise, I felt a little awkward when an email came across my screen, while I happened to be on the phone with editor Dakota Morlan. She received the email at the same time and said something like, "Oh hey, this is about your boyfriend!" The email, from community member Carlos Stoughton, came with the subject line "A Star is Born" and contained the following message, along with a photo and contact info: 
"Hey press, Brad Hoshaw has released a music album on vinyl, CD, and digital. Billboard called, and he's almost on the charts." 
As Brad is indeed my boyfriend, roommate, and general "partner in crime," I felt I should clarify: Brad's recently released album did indeed catch the attention of the company that compiles data for Billboard, if only to verify counts for recent sales and streaming plays through services like Spotify, Apple Music, and Bandcamp. Sadly, the numbers weren't high enough to land on the charts, but getting close enough for them to reach out and verify information seemed like a good sign for Brad, and he shared this info on Facebook with his fans. 
Being the longtime girlfriend (10 years and counting) of the "star" in question, I didn't feel it was my place to "cover" the story, so here we are with my heartfelt opinions instead. I am genuinely so proud and amazed at the work Brad has put into this album, and any success he earns is more than deserved. Writing this is my attempt to give the community the heads up about some really good music happening here in the Mother Lode, and to promote the talents of a guy who moved halfway across the country from Nebraska to support my dream of returning to California. 
Brad's dream is for his community to discover, enjoy, and share his music. So I'll tell you a little bit about the guy. You may have heard about or even met Brad by now. He's lived in Calaveras County (Wilseyville and Mokelumne Hill) for over two years now, and has performed at local events like Lumberjack Day, graced the stage at Renegade Winery, Academy Club, Manzanita Arts, and others throughout the Motherlode, even dazzling audiences with multiple performances in Placerville, Folsom and Auburn. 
He's also hard to miss, with his full brown beard and shoulder-length locks (which for many years were much longer than mine), showing just a glint of silver in the daylight. You'd never notice under the spotlights of the stage, though—never mind that he usually sports a trucker hat or ball cap. Most people notice his size first. Brad is a sturdy, square-shouldered guy, 6 feet, 2 inches, with a build more suited to hard labor than writing sad songs. But that's just on first impression. 
Once you get to know the guy, you notice his quiet laugh, calm demeanor and steady gaze. Hoshaw has a seriousness about him, and his music is his work. The day job he holds at the post office in West Point is just to make ends meet, though he takes that seriously, too. 
Though over half of Brad's life has been devoted to carefully crafting poetic songs about the myriad ways the world can break your heart, he is a delight on stage—telling between songs about the experiences, inspiration, and even bouts of writer's block behind them. He is more storyteller than rockstar on stage, bringing an intimate, artistic touch to his live performances in the vein of folk legends like Neil Young, James Taylor, and John Prine. 
Brad has a unique presence, but he's got the chops, too. His voice has been described as soothing, "honey-sweet," and even haunting. With an arsenal of original songs written by himself or co-written with other talented songwriters, his set is an adventure in exploring the range of human emotion and musical melody, whether you know the songs or not. He'll talk you through the unique pairing of words in songs like "Whisper a New Word," or why he wrote a particularly dark, yet catchy song about a guy getting his ex's name tattooed on the bottom of his foot ("New Tattoo"). He might throw in one of a few covers he does, but even then you might not recognize it at first, as Brad sings pop hits like Kesha's "Tik Tok" and Prince's "Purple Rain" in his own style. 
A Brad Hoshaw show is usually a very intimate experience, and he prefers it that way. He wants to connect with the audience, and he usually does have a way of quieting even the chattiest barrooms with his authenticity and vulnerability, and my personal favorite, an ethereal falsetto that seems impossibly angelic for a man who could pass for a lumberjack most days. 
If you want to see and hear for yourself, Brad has a show coming up Nov. 19 at Sutter Creek Provisions on Main Street in Sutter Creek (check the Enterprise calendar for more info). It will be an "in the round," where the songwriters take turns performing, evoking the feeling of a 20-something late-night campfire with friends, only there's more than one guitar and the beer is of much better quality—with two very talented songwriters from Sacramento area, Jessica Malone and Seth Grauer (of the band Brotherly Mud). If you can't make it, check out Brad's website bradhoshawmusic.com and follow him on social media for updates on future shows. Hope to see you there!